In these last few days of the year, I'm so honored to be getting to know new friends through
KIOS
and to be getting insights into old friends, too. So here's my mish-mosh of a story for you, kickin' it old skool style:
When you are a wee thing, life can be so very sweet. To have your own tiara. An Ernie doll to drag around with you everywhere. A new jumper you love. Getting to spend Christmas, New Year's Eve (along with midnight bringing the new year, it also brings your birthday) -- and spending all that time at your Mimi and Unkie's house. To do that with your beautiful, emotionally intelligent, amazing teacher of a mother.
What can I say? For me, this time around is fortunate rebirth if the Buddhists are right -- fortunate reincarnation if the Hindus are right -- fortunate life if the New Agers with past life notions are right -- just damned lucky if the Catholics are right and this is it, once around, and then off to Heaven or Hell.
Whatever the case, this life has been fortunate. Not only did I have all that was simply captured in this photo from the early 70's, but I had so much in my life.
My mother taught me early about the beauty of words. First, by reading to me. Then by providing me with books as toys. Then by taking me to get my very own library card as soon as I was old enough to have one. Then by helping me learn to read -- silently and out loud. Then helping me tell my own stories.
One of my first faint memories is of my mother allowing me to just be in my own room. I loved that room. Soft light mellowed because it cast through the window that faced the neighbor's house...so the sun always seemed soft-boxed in that window. The texture of the green rug on the floor where I could sit, read, make tea for my bears, imagine anything. After tea, I could arrange my bears and tell them stories. I love my early memories of that room because of all the possibility it held.
Stories, books and music played a role even after the room was gone though.
Shel Silverstein.
"Rubbery blubbery macaroni..."
That line alone made me want to be a poet!
The Snowy Day.
Anything by Judy Blume. (Vintage covers only please!)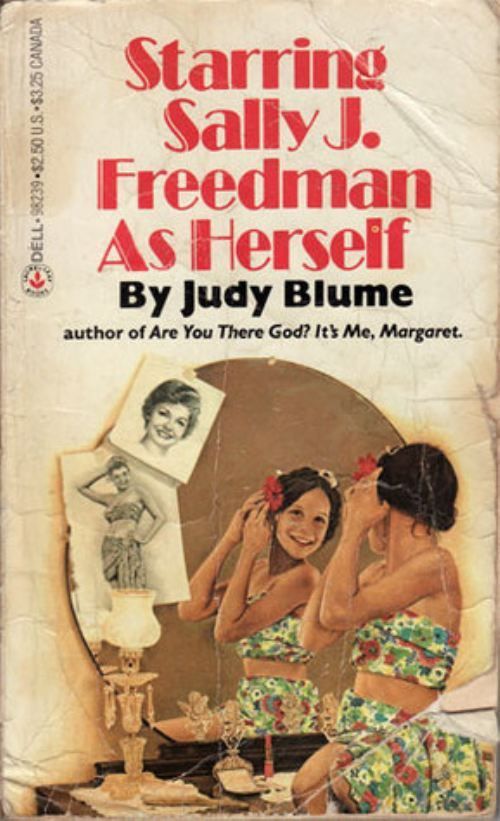 And music from things like Mister Rogers Neighborhood (where I'm certain I formed my love of jazz), Schoolhouse Rocks where I saw that you can learn with music, and finally anything from
Free To Be You and Me
, because lets face it, they told us we were allowed to DREAM and have lives that meant something outside the dominant culture of segregation, violence, and capitalism.
And it wasn't only dream nourishment, but it was a fortunate birth in actual nourishment, too. I learned to eat and take care. And then I did stupid things like take a first job at the evil Golden Arches and learned that I could eat badly and not take care -- and a young body could endure. I could turn my nose up at the beautiful vegetarian foods made in my friends' Japanese or Chinese or Indian households, only to take in hamburgers that were later revealed to be pink slime and cool whip that was later revealed to be more chemical and wax than food! But as with all life *cycles* I have been fortunate enough to come back around to learning to eat properly again:
No matter what happened in the ups and downs though, I like to think I never forgot the most important thing my mother instilled into my very cells. The ability and practice at loving other beings. To this day the people I love make my life fortunate!
That giggle group is me, my mom, and my Hawk on our wedding day. A most fortunate match if ever there was one. I love the two of them more than anything on the entire planet.
So, what happens when little girls with their own tiaras who celebrate their birthdays on New Year's Day grow up? Well, here at the end of 2013, about to hit the 2014 birthday, *this girl* takes time to review and be thankful.
2013 is the year I came home to this island. No more wondering about an idea of home. This is it. Adventures will come and go, but I'll be quite happy to live my last breaths on this Rock in the Puget Sound. 2013 taught me that this precious life will never be about what we "should" show up for or what "woulda, coulda, shoulda"...but rather this life is about showing up in the ways you can. Being who you are in *this* moment. Understanding that there is no perfection, but only practice. If this moment wasn't kind enough, then if I'm fortunate enough to get another moment, I can practice at being, giving, doing, receiving more kindness. Adventures come and go. Money comes and goes. People come and go. Experiences come and go. My own body's ability to do things comes and goes. But consistently, I have a choice to be, do, give, receive more or less kindness in any given moment. I think the Dalai Lama was right. My religion is Kindness. Anything else is ... well ... not kind.
And as if on cue of the word kindness, today as I was pondering 2013 and considering what 2014 might be, I got this letter size envelope in the mail that absolutely burst with kindness when I opened the flap:
Laurie from over at
Laurie Richardson Creates
sent me all that magic you see in the photo above...first of all, *OMG and thank you, Laurie*!!! And second, how could I not feel wealthy and fortunate and awash with kindness at all the bits and bobs and sparkles? What beauty to get just in time for my birthday and New Years? What alchemy to remind me of setting mindful space for the coming year?
And so I'll end today's "holiday post for getting to know each other" with my three words for 2014 and my wishes for all of you:
Kindness
Spaciousness
Breath
I wish for you all to be happy and free of suffering. When there is suffering, I wish that you can give and receive kindness even in the face of that suffering. I wish for you to receive the breath that breathes you, that you may feel spaciousness within your very own being, even in the face of the most crowded places. I wish that the wealth of kindness might touch your heart so that you know how very much you have to give to those who are in need. I wish that each of us could be open, full heart, and do our best to bring peace, clean water, kindness, plenty of food, clothing, and shelter to all beings.
May you feel kindness in each footfall as your path unfolds in the coming year.
Miracles,
k-